sooooooo excited about my latest creation for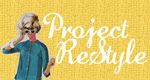 :)
i'm not sure what possessed me to buy this mini skirt save for the cute pleats and the tweedy comfort fabric... i mean... look at it:
it's the same size as my smallest cutting mat! *facepalm*
since buying it at the thrift store, it's been sitting in my closet... and keeping it company was this vintage brown Hope Reed dress that i've had FOREVER - probably a find from my days managing a vintage clothing store in the early 90s...
the dress was always too big (my dress form, Gladys, is also bigger than me), but i loved the pin tuck detailing on the collar and yoke.
so... i chopped off about a foot from the bottom of the dress... added it to the mini... used my
handy dandy sewing machine
to add some decorative stitching.... used some leftover muslin and lace for another underskirt:
et voici!
une jupe! "modified"!
i think i was inspired by some of the imaginative outfits japanese youth cobble together in the magazine
FRUiTS
. i have a well loved moldy old issue. i especially enjoy when they mashup two design influences like lolita and steampunk. i'm too "old" to wear their versions, so here's mine.
i'm working on the leftovers of the dress now... will post results later. :) thanks for coming by and reading! Happy Tuesday!